Many people are inspired to give back to Starship after the incredible team at our national children's hospital has positively impacted their lives, or the lives of their children, however that happened in reverse order for Auckland Mum Sharon Seeto.
Donate to Starship
Stepping down after more than five years working voluntarily as a proactive fundraiser with the Friends of Starship Committee, Sharon found herself back at Starship with daughter Ruby just six months later.

Back in 2001 Sharon Seeto accepted an invitation to attend a charity luncheon from friend Mindy Levene and, together with architect husband Ron, found herself at a table of ten including key members of well-known fund-raising group, Friends of Starship.
"They were telling me about the Starship Foundation and the Friends of Starship and what they do and then at the end they said 'why don't you join us on the committee?'"

Sharon and Ron's daughters Ruby and Noon were just four and one at the time. "I wasn't working so I thought that it would be quite useful and good, and something that I could do – and so I joined the Friends of Starship Committee."

Sharon was with the committee through until 2006 including a stint as Chairperson in the later years. She explains that during that time two of the key initiatives which the committee organised and delivered were the 'Christmas Cracker House Tour', and in collaboration with Newmarket Rotary an Auckland based Melbourne Cup Day event. (Sharon's husband Ron is a proud Rotarian and as a past District Governor has been a driving force for the organisation). These and other events, such as the 2005 DEUTZ Charity Evening as part of the ASB Classic, and the 2002 Meguiar's Award, raised significant funds for Starship Children's Hospital.

"The House Tour was held at the start of November and we'd follow that up closely with the Melbourne Cup event which was always on the first Tuesday in November."

"It was a matter of finding about ten houses – gorgeous homes around the local area – Remuera, City, Herne Bay, Parnell - and we would have the houses decorated by local designers and florists, man them with some minders, sell tickets and raise some funds."

"The Melbourne Cup Day Event was usually held in the Guineas Lounge at Ellerslie. I recall the fashion show Adrienne Winkelmann would organise – so it was a luncheon and a fashion show with loud and silent auctions for fund-raising. It was 'the event' to be at. A great collaboration and really fun."

She recalls that the commitment required to successfully deliver these events was significant, but she enjoyed the camaraderie, the friendship and the rewards.
"It was a great group and I like to keep in touch. A group of six of us meet around once a quarter to have lunch – it's been a really lovely connection. We worked very hard – it was a full-time job to put all those events together."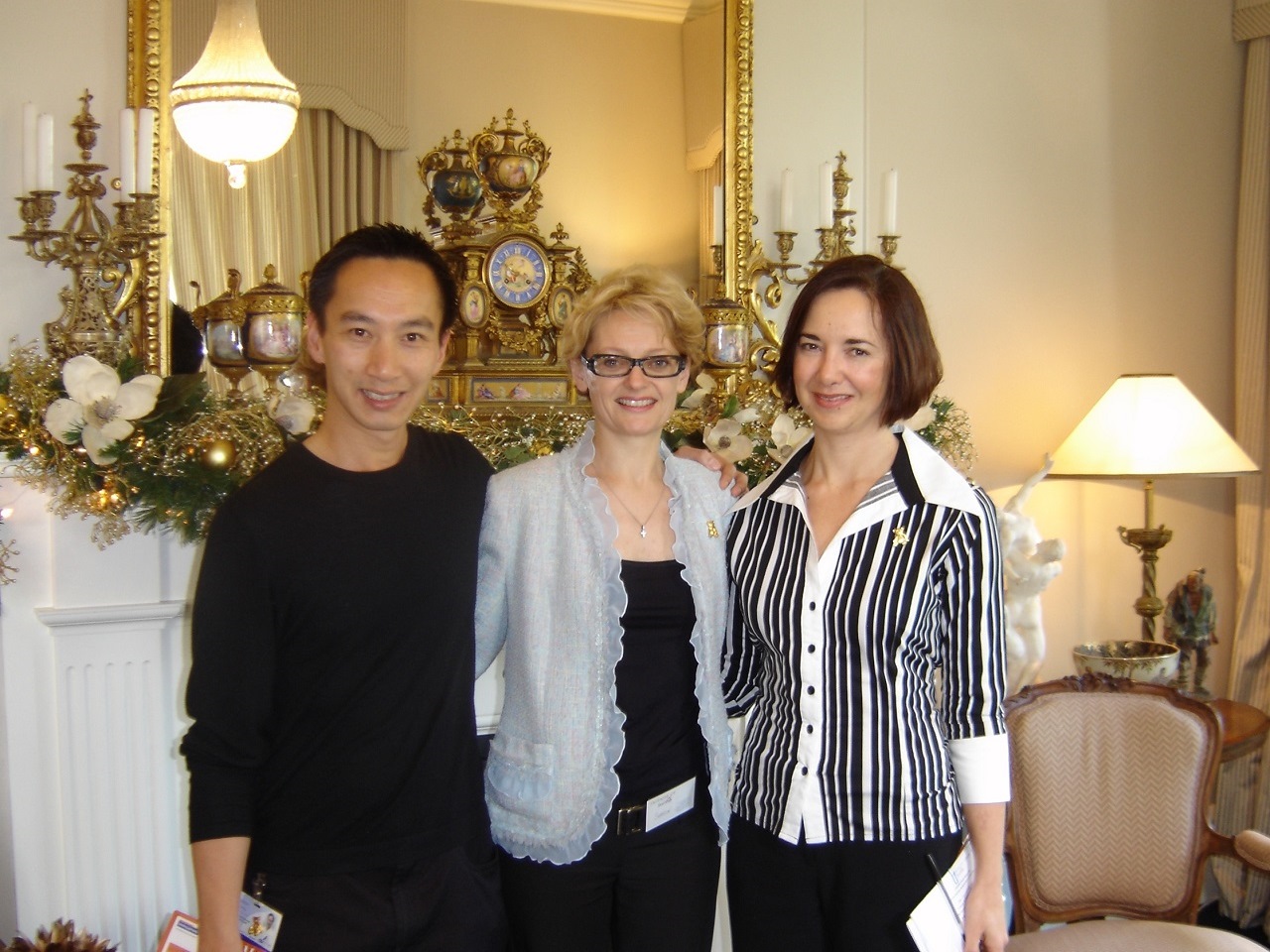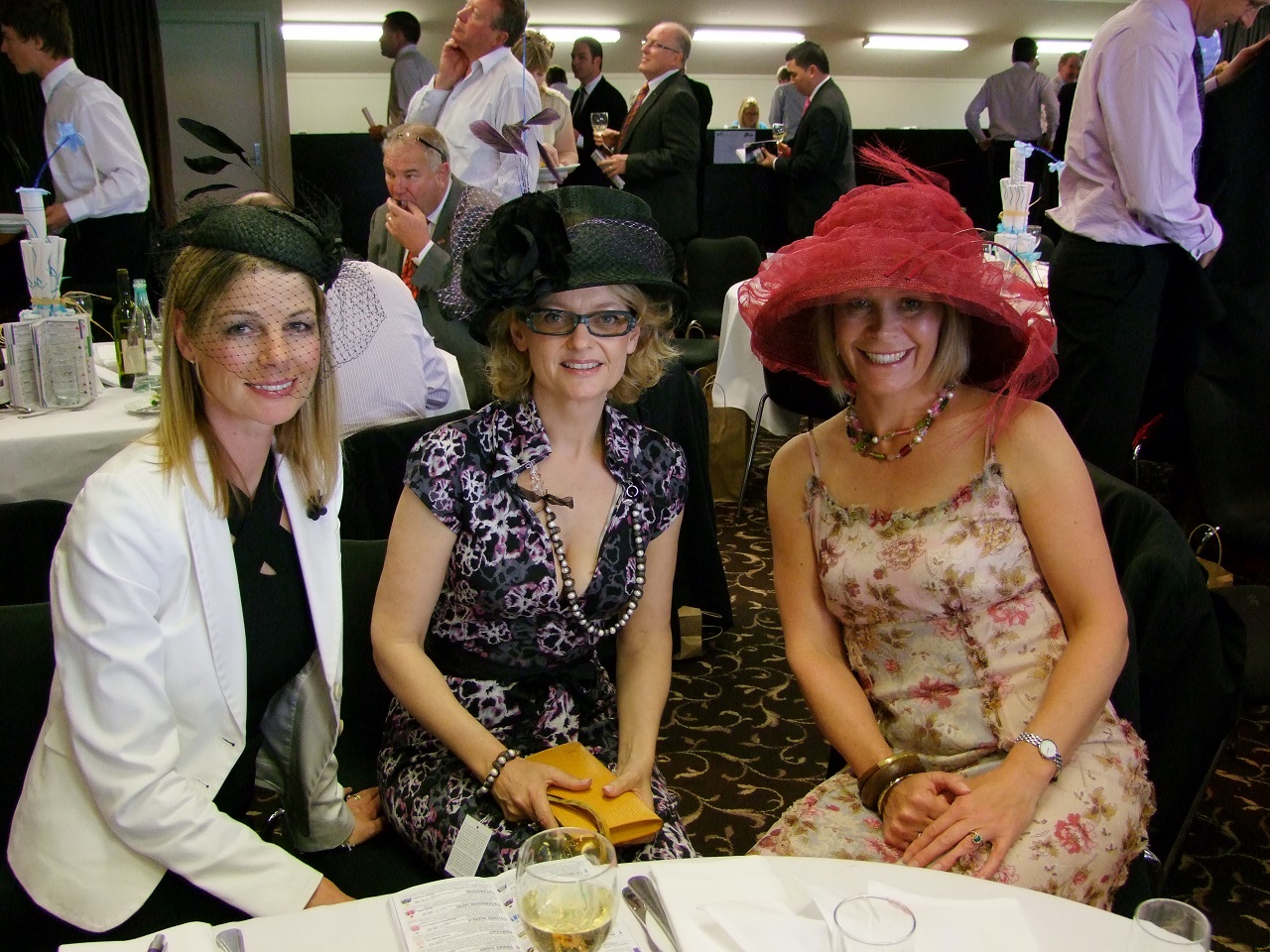 Pictured above: (At left) Andrew Young, Sharon Seeto and Chantal Woodfine at the Friends of Starship Christmas Cracker House Tour (At right) Jude Turner, Sharon Seeto and Linda Morrice at the Rotary Club of Newmarket Melbourne Cup fundraiser for Starship.
Sharon left her role as Chairperson of the Friends of Starship Committee early in 2006, and it was just six months later when she found herself at Starship Children's Hospital with her nine year old daughter Ruby.

"So that same year I was back in again - on the other side," says Sharon. "We had just been on a Seeto family reunion back to Fiji in August, everybody was well. When we returned from that, a week or so later Ruby just didn't feel so well, and stayed home from school, and I thought I might take her to the doctor the next day if she didn't feel any better."

"She was in the shower and noticed a lump and so we went to see the GP who sent us off to Starship and then it all just unravelled from there."

It took time for her care team to decide how to proceed with Ruby because they had not encountered this kind of cancer before in someone so young.

Sharon says, "Those weeks were the worst and Ruby continued to get very, very ill quite quickly. She went, within two or three weeks from being quite well to being in a wheelchair and sleeping with us at night time, and down to about 20kgs – it was incredibly fast."
"They decided to remove the tumour and test it and then to see what happened next."

Auckland Hospital liver surgeon John McCall removed Ruby's gall bladder and 70% of her liver along with the tumour in an operation that lasted around seven hours.

A couple of weeks later the histology report was back and confirmed it was an Undifferentiated Sarcoma of the Liver and Ruby underwent 14 rounds of chemotherapy in Starship which took about a year, finishing her treatment in October 2007.

It was during Ruby's recovery that she and Mum Sharon came up with another fund-raising idea.

After accepting an invitation to join a Koru Care trip to the United States Ruby voluntarily decided she would like to give back through fundraising, but still quite weak from undergoing chemotherapy she needed to find something she could do that didn't require a big physical effort.

"She liked to draw, so she did a drawing," explains Sharon. "We found a screen printer and asked 'could you put this onto a tea towel'? I just thought we'd sell a few to our friends and family and some school mates – it was just as simple as that and we thought if we could make a couple of hundred dollars it would be quite fun."

"Noon helped by rolling the tea towels and securing a ribbon around each one. All the family were involved."

"We must have printed about 700 tea towels – we made $4000. It was crazy."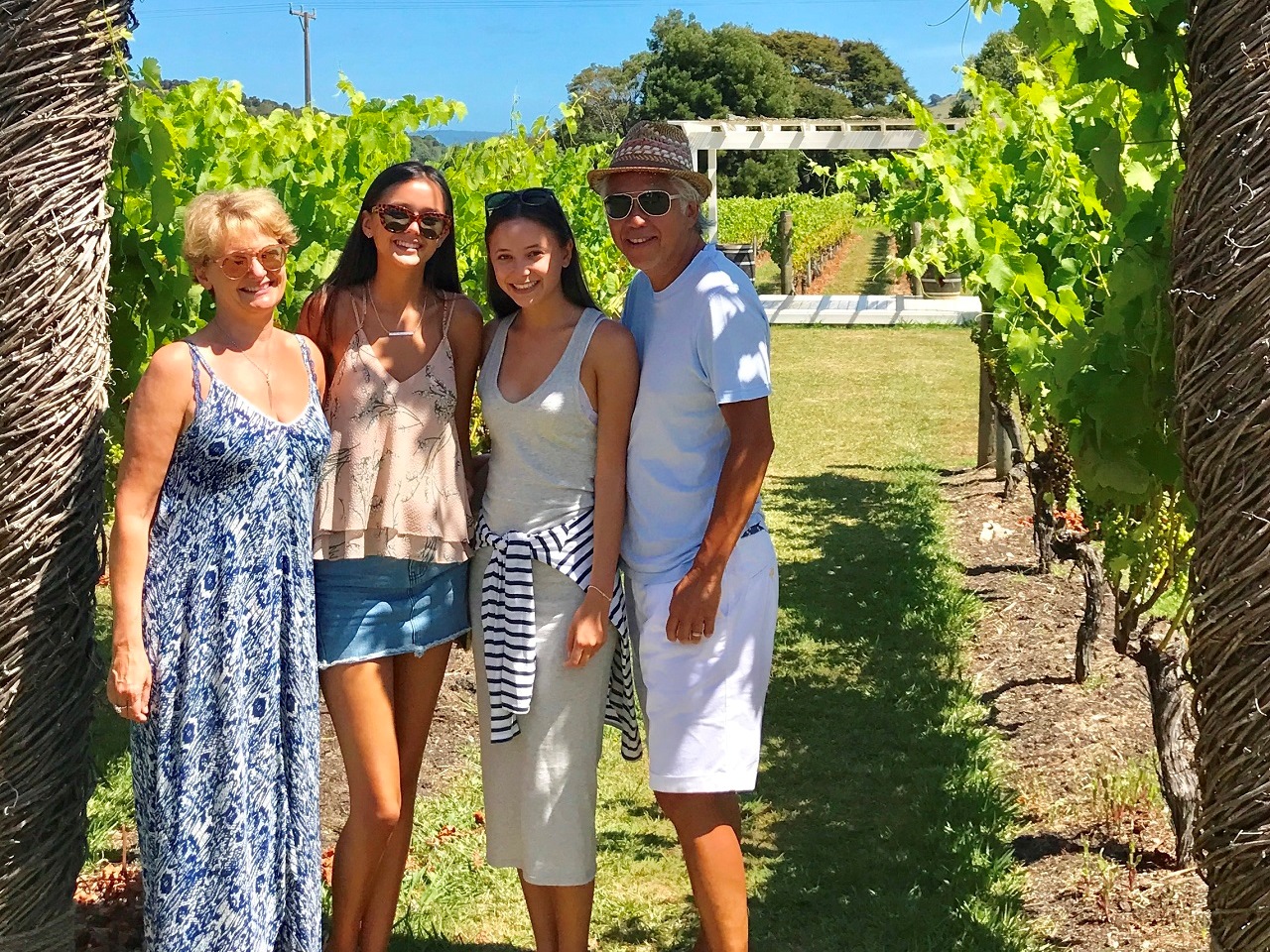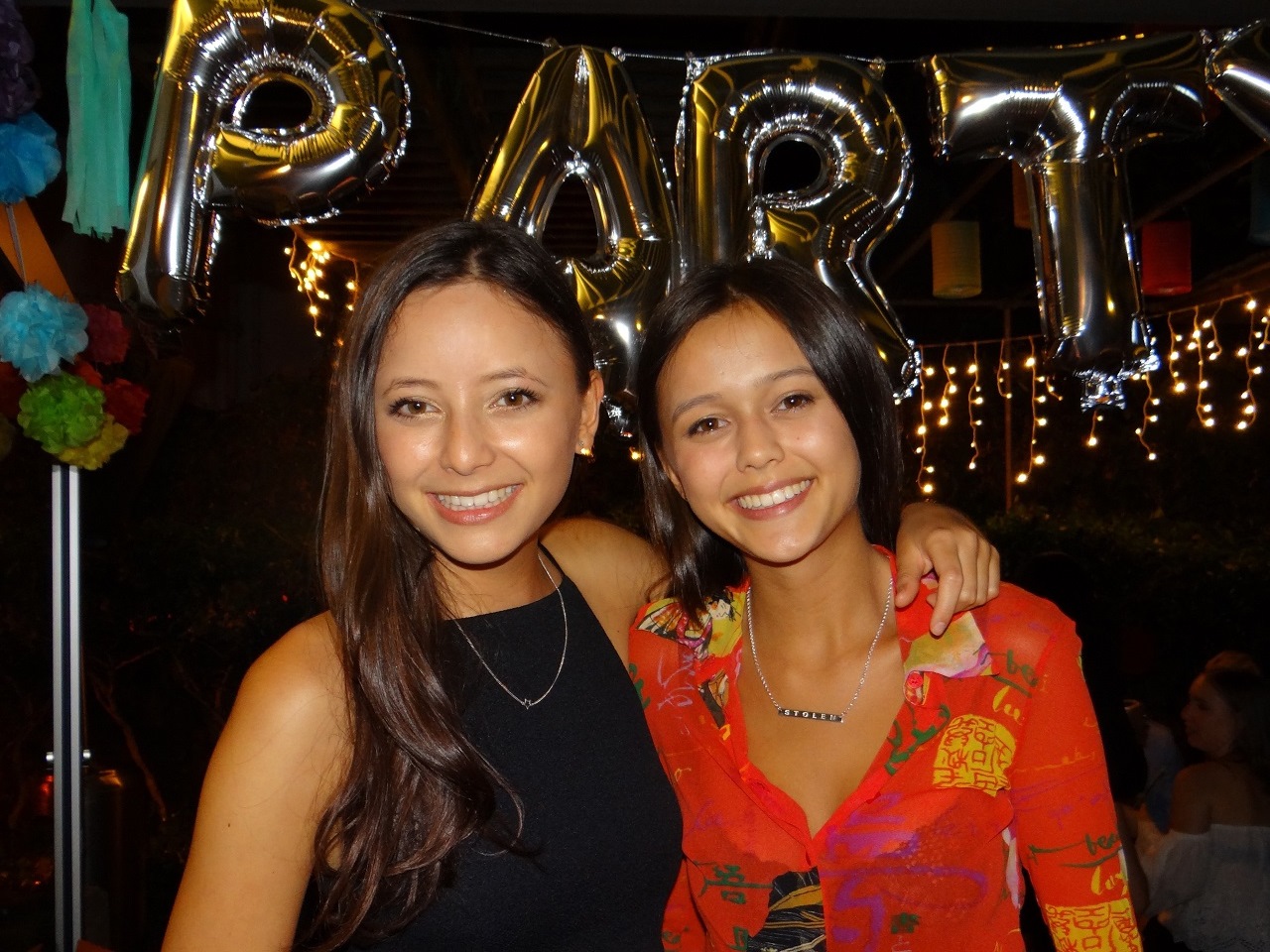 Pictured above: (At left) Sharon, Noon, Ruby and Ron Seeto (At left) Sharon and Ron's daughters Ruby and Noon

The following year Ruby did another drawing and decided that she wanted to support Starship. Subsequently New Zealand company Wallace Cotton came on board in a collaboration that has seen the sum of the parts outstrip anyone's expectations and continue today with a current tally of more than $400,000 raised through Ruby's Tea Towels.

"I'm really proud of Ruby, that she has put that effort in and come up with a new design each year and a new recipe. And it's been amazing to have public support – people buy them each year!"

"It's really lovely to be able to create something that isn't expensive that people can contribute to Starship and be useful too. Who would anticipate that ten years on she would still be designing them!"

Almost a decade on the Seeto family can reflect with gratitude. Ruby is 20 years-old and embarking on her final year studying a Bachelor of Commerce, double major, at Wellington's Victoria University and keen on working in the advertising industry.

"Ruby is living a normal, healthy, super, super life – thankfully. We've been very, very lucky," says Sharon.

Share Sharon Seeto's story
Do you have your own Starship Story?